For most people with prescription lenses, cleaning glasses is a necessary evil you're forced to deal with multiple times a day. Unfortunately, their tendency to collect dust and smudges tempts us to reach for whatever soft textile is nearby.
Knowing how to clean eyeglasses is crucial. Optical lenses are fragile, and many materials cause microscopic scratches that build up over time, compromising how effectively they reflect light and correct your vision.
How to Clean Eyeglasses in Four Easy Steps
The best glasses cleaner doesn't come in a spray bottle or towelette packet– it comes from your bathroom sink. Daily cleansing with soap and water is the safest way to protect eyewear from smudges and scratches.
When cleaning your glasses, the whole process should take just a couple of minutes, but it's an invaluable investment in your eye health and far better than wiping glasses with whatever is close at hand.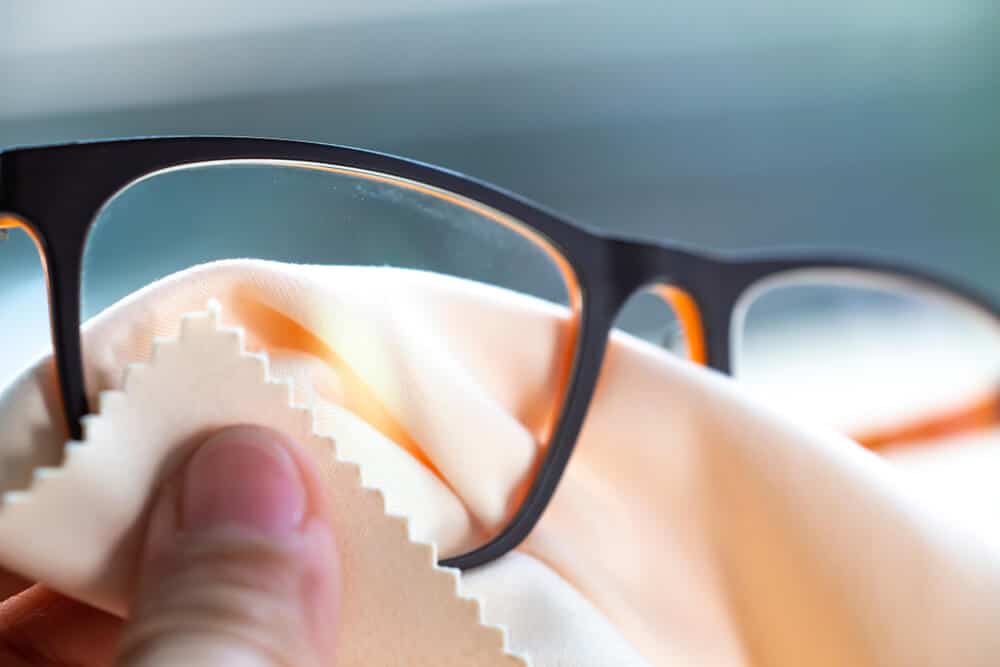 1. Wash Your Hands with Antibacterial Soap
Glasses streaks result from your skin's natural oils transferring to the smooth surface. Therefore, when figuring out how to clean eyeglasses, start by washing your hands. Start cleaning glasses by thoroughly washing your hands with antibacterial soap and warm water.
2. Give the Frames and Lenses a Thorough Rinse
Run your eyeglasses under the tap, rinsing away larger bits of debris from the lenses and frames. When cleaning glasses, focus on the hinge between the arms and the frontal part of the frame, where dirt and oils accumulate.
3. Use Soap to Dissolve Away Oils
When learning how to clean eyeglasses properly, you can start by adding a small drop of antibacterial soap to each side of your lenses. Then, use your fingers to work it into a lather while holding the glasses under the tap.
Clean the bridge and arms as these areas spend the most time against our skin, making them prime targets for picking up dead cells, sebum, and bacteria. When finished, rinse your glasses under the tap again.
4. Dry the Glasses with a Lens-Safe Cloth
The last thing to know when learning how to clean eyeglasses is how to dry your lenses properly by removing excess moisture, so it doesn't settle into the hinges.
First, carefully shake your frames over the sink to remove larger droplets, then transfer them to a towel. The best glasses cleaner material is a microfiber cloth, which has a soft, no-scratch texture and doesn't produce lint.
You can also try a clean, dry cotton towel if you don't have a microfiber cloth. It will likely leave behind lint, but you can blow them away. Because your glasses are free from oils, the lint shouldn't stick to the lenses.
Cleaning Glasses in Between Washes
If you can't go through the entire washing process, you'll need to rely on other solutions designed to clean your glasses without damaging them.
Best Glasses Cleaner
When learning how to clean eyeglasses, you should look into glass cleaner. Regarding the best glasses cleaners, it would be best if you never used anything that isn't water and hand soap or optical lens cleaning solution on your lenses. Other chemicals like acetone and alcohol can warp polycarbonate lenses and damage frames.
While most sprayable optical lens cleaning solutions are safe for all eyeglasses, check the bottle to ensure it says that it's safe for coated lenses.
Best Glasses Cloth
When cleaning glasses, microfiber is the only material you should use on your lenses, as it will not scratch the surface or leave lint behind. They also soak up oils much more effectively than other textiles or paper towels, ensuring that smudges disappear instead of spreading.
If you don't have one handy or this is your first time owning glasses, you can find them online or at your optometrist's office. Often, new eyeglasses come with a microfiber cloth. When learning how to clean eyeglasses in a pinch, disposable towelettes are convenient, as the individual wipes are moistened with lens cleaner.
What Not to Do When Cleaning Glasses
Now that you know how to clean eyeglasses correctly, let's address some of the most common mistakes people make when caring for their frames.
Rely on Your Clothes
We've all been guilty of using our shirts when wiping glasses off, but clothing textiles are not soft enough to avoid scratching the delicate surface. It's also likely that microscopic dust particles on the fabric could worsen the problem by sticking to the smudged oils.
Avoid Household Cleaners
When learning how to clean eyeglasses, never use household cleaners. They can damage the protective coatings that block UV light or make them scratch-resistant.
Use a Dirty Microfiber Cloth
Don't let your microfiber cleaning cloth accumulate weeks of dirt and oil. They should be washed at least weekly without fabric softener or dryer sheets to get rid of all the gunk.
Wipe Your Lenses While They're Dry
Cleaning glasses with a dry rag drags the particles of dirt across the surface, leading to scratches. If you're on the go and need a quick fix, use a disposable optical care towelette or lens cleaner spray with a microfiber towel.
Leave Your Glasses Sitting Out of Their Case
When you're focused on a task, placing your glasses in their protective case is likely the last thing on your mind. However, you're leaving them vulnerable to environmental dust particles that will stick to any skin oils lingering on the lenses.
Is It Time for New Glasses?
When you're cleaning glasses, wiping glasses off constantly will make them last. However, even if you follow every step of how to clean eyeglasses religiously, there will come a time when it's time to retire your old frames for a fresh pair.
Art of Optiks is an award-winning team of eye health experts that work closely with our patients to provide the latest in optometry technology, preventative services, treatments, and curated collections of luxury frames. Contact our team today to schedule your comprehensive eye exam.