Hundreds of millions of people around the world wear glasses everyday. For people with vision impairment, glasses are more than just an accessory, but that doesn't mean these vision correctors are purely utilitarian.
But many people, especially those new to glasses, don't know much about glasses frame materials. But you can find frames made from several different materials, such as metal eyeglass frames or ones made from plastic or wood.
In this quick guide, we'll break down the most common frame materials, including the pros and cons. 
Eyeglass Frame Materials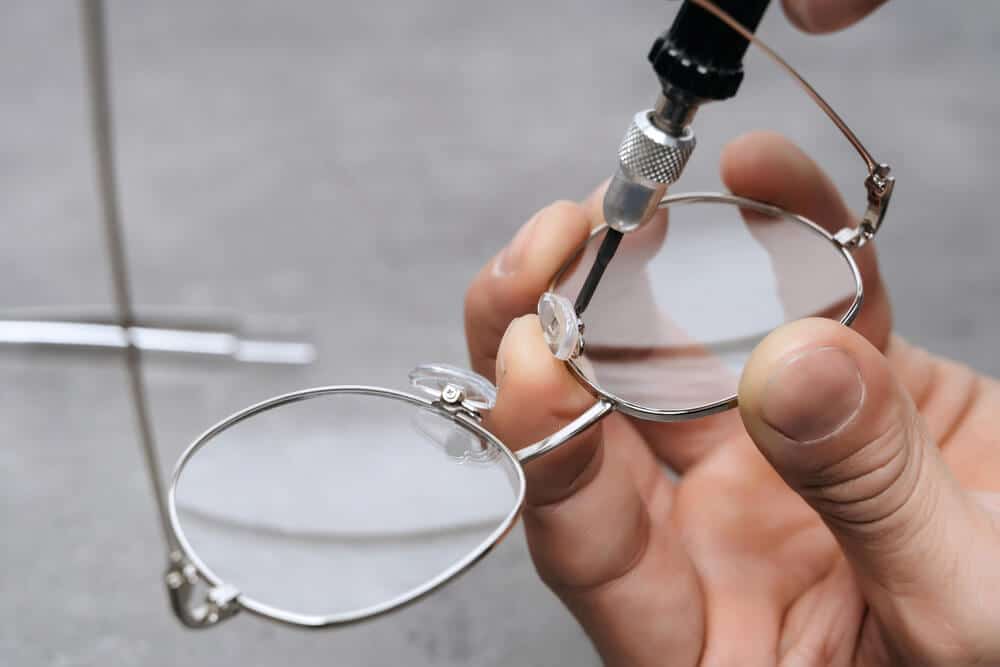 The most common materials used to make eyeglass frames are plastic and metal. Within these categories are more specific materials, so read on to learn more.
Plastic Eyeglass Frames
The majority of plastic eyeglass frames consist of the materials listed below.
Zyl
Zyl, or cellulose acetate is a plant-based plastic that has become the most popular material for glasses. The material is extremely lightweight and can be adapted to any color or texture the customer wants.
Nylon
Originally, nylon frames were made of pure nylon, but blended nylon became the new norm as science advanced. The blended nylon is stronger than the former, though the material is still relatively brittle compared to metal frames. Nylon is resistant to extreme heat and cold, making it a popular year-round option.
Cellulose Acetate Propionate
Cellulose acetate propionate is a sort of combination of zyl and nylon, as it is a nylon-based plastic that mixes in cellulose acetate. The material is gleaming, which attracts many people because, unlike metal frames, you can combine shine with color with these frames.
Metal Eyeglass Frames
There are several options when it comes to metal eyeglass frames.
Titanium
Titanium is often viewed as the "designer" eyeglass material because most high-end brands use it. The material is strong, highly resistant to corrosion, durable, lightweight, and hypoallergenic. This combination of factors makes it one of the more expensive options when it comes to eyeglasses. Unlike other metals, titanium eyeglass frames can come in a wide range of colors.
Stainless Steel
Stainless steel isn't limited to kitchen appliances, as it is also a popular eyeglass frame material. Stainless steel is often offered as an affordable alternative to titanium frames. The material is lightweight and strong but not very flexible.
Monel
Monel, a metal alloy, is a nickel-based combination, often mixed with copper, iron, zinc, and silicon. Monel frames are durable, expensive, and typically limited to neutral color options, like black, brown, and tan. The nickel composition means these frames are not hypoallergenic.
Carbon Fiber
Carbon fiber is a somewhat uncommon material in metal eyeglass frames. You'll only find this material in high-end expensive frames. The material consists of actual woven fibers of carbon atoms, resulting in a super-strong metal frame. Carbon fiber frames typically only come in a black color option.
Aluminum
When you think of aluminum, you might imagine the flimsy foil you put over a casserole. But when it comes to eyeglass frames, aluminum is one of the higher-end options. The material is incredibly strong, so aluminum eyeglass frames are often very durable and will last years and years. Aluminum eyeglass color options typically stay within the neutrals category, with colors like brown, black, gray, and tan.
Beryllium
Beryllium is a gray metal often mixed with copper to create lightweight, strong, and flexible frames that are often shiny. People who enjoy the look of polished metal often go for these frames. Beryllium is one of the more flexible options for metal frames. 
Flexon
Flexon or "Memory Metal" is a combination of nickel, copper, and aluminum, or a combination of nickel and titanium. Unlike titanium, flexon is a flexible metal, so it's easier to adjust. It's ideal for those who wear glasses while participating in sports activities or for active kids.
Uncommon Glasses Frame Materials
Plastic and metal make up most eyeglass frames, but some people opt for uncommon or unique eyeglass materials.
Precious Metals
Some people opt for gold or sterling silver as their eyeglass frame material. This choice is often to show off rather than as a practical tool, similar to wearing a gold necklace or silver earrings.
Wood and Bone
Another uncommon option for eyeglass frame materials is bone or wood. Both are often handmade options sold by artisans. The material is generally coated in resin or another waterproofing material, so the bone or wood doesn't decay or grow mold over time.
What Are the Best Glasses Frame Materials?
The best material for glasses frames depends on your budget, prescription strength, and aesthetic preferences.
Plastic
Plastic eyeglass frames are a great option if you're looking for inexpensive frames with a ton of color options. The thick plastic frames can also accommodate stronger prescriptions. With a stronger prescription, the glass often sticks out of thinner metal frames, which could lead to scratching or the lens popping out of the frame. Below are a few pros and cons of plastic eyeglass frames:
Pros:
Colorful options
Inexpensive
Lightweight
Flexible
Hypoallergenic
Cons:
Weaker than metal
Color fading
Loses arm and frame strength over time
Metal
Metal is generally more expensive than plastic eyeglass frames, but the price is accompanied by a stronger and longer-lasting material. Many metal options, including titanium, stainless steel, carbon fiber, and flexon, are hypoallergenic, but others, like monel, beryllium, and aluminum, are not. Let's take a look at a few of the pros and cons of metal eyeglass frames:
Pros:
Reliable
Strong
Resistant to corrosion
Cons:
Expensive
Few customization options
Few color options
May not be hypoallergenic
Uncommon Materials
Eyeglasses made with uncommon materials, such as wood, bone, gold, or sterling silver, generally have more cons than pros. People enjoy the unique look of these glasses, but they are usually not suited for day-to-day wear as they are not made from the best materials for glasses frames.
Bone and wood frames are strong but lack the flexibility to adapt over time to last. In contrast, gold and sterling silver frames are flexible but will deteriorate over time because the material is not strong.
Learn More With Art of Optiks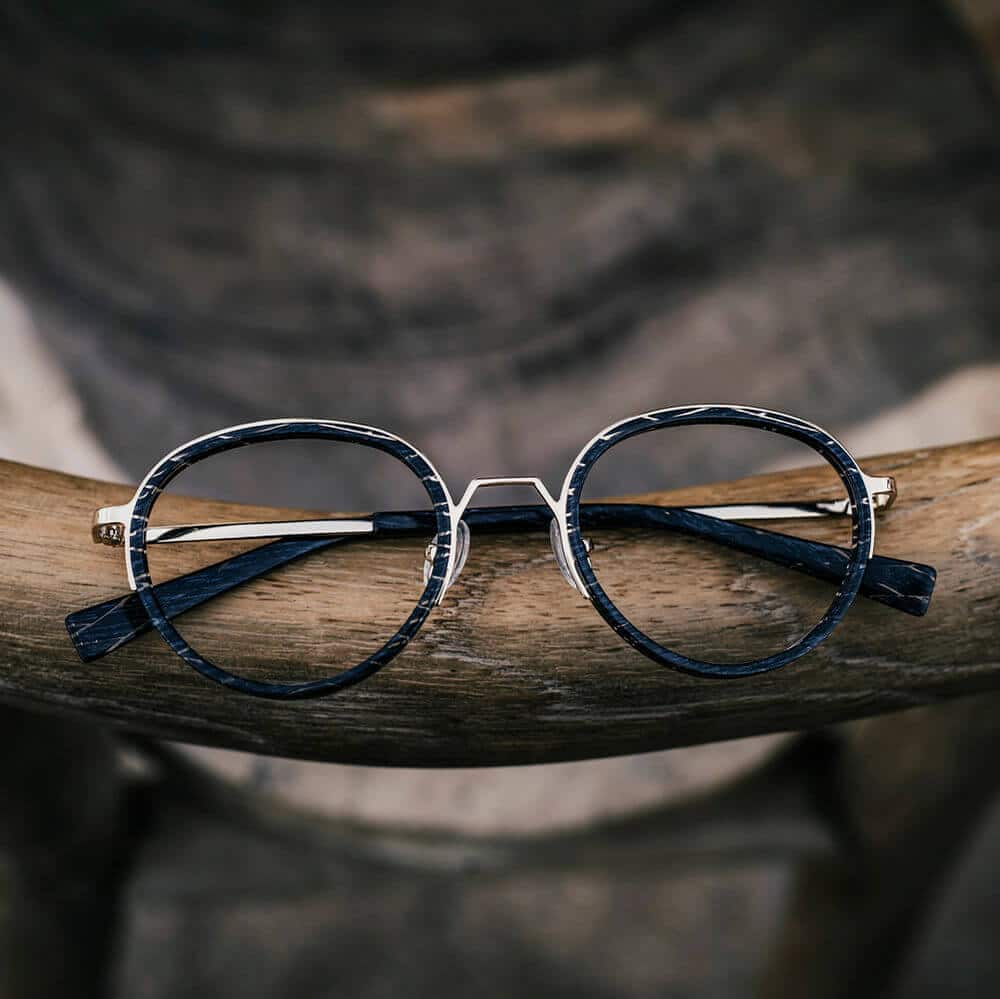 According to the Vision Council, about 75% of Americans use some form of vision correction, and a vast majority (about 64% of all Americans) use eyeglasses. That means about 167 million people wear glasses in their day-to-day lives.
Wearing eyeglasses doesn't have to mean giving up on style or spending a lot of money. By selecting the best eyeglass frame material, you can customize your glasses choice perfectly to suit your aesthetic.
It doesn't matter what glasses frame materials are your cup of tea. You'll be able to find the perfect frames with the wide variety of options available. Contact Art of Optiks today to find a pair of glasses you'll enjoy for years to come.