You have designer frames in the latest style, but your eyeglasses slide down your nose. Maybe you have the opposite problems, and your stylish glasses leave marks on your nose or fit so tight they make your head hurt.
No matter how much you love your spectacles, it doesn't help much if your glasses don't fit properly. Wearing the wrong size glasses might seem like an inconvenience at best, but you could develop bigger problems with an improper fit. When glasses don't fit, they can disrupt your vision, cause eye strain, and trigger headaches.
Read on to learn how to identify if you have the wrong size glasses and need a refitting or new glasses.
Symptoms When Glasses Don't Fit
The following signs suggest you might be wearing the wrong size glasses. If you experience any of these symptoms, you can stop by Art of Optiks to get an accurate fitting with an expert optician.
Glasses Sliding Down Nose
Your eyeglasses should slide down your nose if you push them, but they shouldn't move down your face during normal daily activities. If your eyeglasses slide down your nose, it may mean your frames are too wide for your face.
Glasses Falling Off Face  
If your glasses are falling off your face whenever you turn your head or look downward, the hinges on your glasses may be loose or worn out. Bent temples, improperly adjusted nose pads, or wrong size glasses frames could also be the culprits.
Few things are as annoying as having your glasses falling off your face throughout the day. It's worth a trip to an experienced optician for a professional fitting. They can help you find a solution to stop the glasses from falling off your face by making adjustments or recommending a better pair.
Glasses Marks On Nose 
If you take off your glasses and see impressions from the nose pads on the bridge of your nose, your glasses don't fit properly. Having glasses marks on your nose suggest they are too tight or the weight isn't being distributed evenly across your face. The result of this pressure on your nose can lead to symptoms similar to digital eye strain.
Pinching 
Metal eyeglass frames are separated from the bridge of your nose by nose pads, which distribute the weight of the frames. Tight pads on your glasses don't have to leave marks on your nose to be uncomfortable. If your glasses don't fit quite right, have an optician adjust the nose pads. You might consider changing the nose pad material to something softer, like silicone, acetate, and nylon are options.
Headaches When Wearing Your Glasses
Constant headaches are one of the most common tight glasses symptoms. If you have headaches during most of your waking hours, chances are your glasses are too tight, or the weight of your glasses isn't distributed evenly across your ears and nose. Wearing glasses that are too tight can also put pressure on your temples, making you feel like your head is in a vice.
Squinting 
A symptom of needing glasses is squinting, but if you squint while wearing your glasses, it could be a sign that you're wearing the wrong size glasses. When the focal point of your lenses is too close or too far from your eyes, it changes the way your eyes focus on light. This can make your vision blurry, which will cause you to squint.
Peripheral Vision Problems 
The design of some eyeglass frames gives them a limited peripheral profile, but they still let you see what's in front of you. If your peripheral vision is limited and causes you problems in your day-to-day life, you might be wearing glasses that don't fit or frames and lenses that are the wrong size for your lifestyle and vision.  
Dizziness 
Wearing glasses should never cause you to feel dizzy. Though many have a period of adjustment to new lenses, wearing new glasses shouldn't cause vertigo. Feeling dizzy or nauseous when wearing your glasses could mean that the glasses don't fit. Consult your optometrist or optician if you feel dizzy when wearing your glasses.
What Factors Into the Fit of Your Glasses?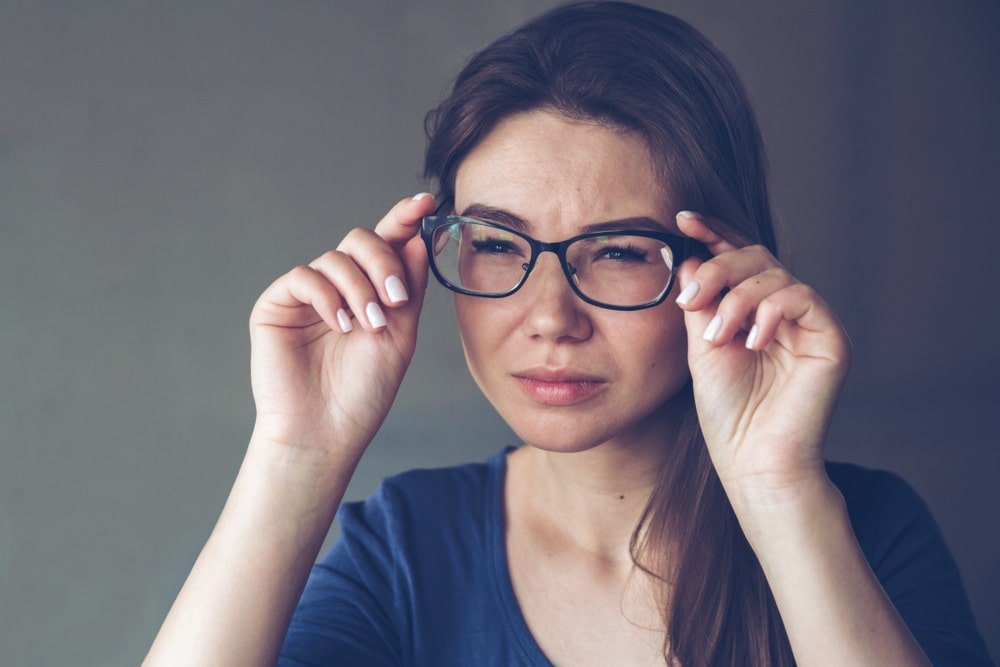 Eyeglasses can be simple in concept, but multiple design factors affect the fit of your glasses. Your face shape is often the first place to start because thin glasses don't fit quite right if you have pronounced facial features, like high cheekbones or a long forehead. Aside from your face shape, it's necessary to consider glasses features, including:
Frame Width 
The width of your eyeglass frames should match the width of your face at the temple level. Glasses don't fit if the frame is too wide for your face. They will likely fall off and will cause your eyes not to be centered in the middle of the lenses.
Lens Width 
A factor in the frame measurements listed on the inside arm of your eyeglasses. The lens width can affect the frame size and overall weight of the glasses.
Bridge Width 
The width of eyeglass frames at the bridge, the part that fits on your nose, is a key to having a proper fit. If the bridge width is too narrow, the glasses will fit too tight. Glasses don't fit if the bridge is too wide either because they will slide down the nose or fall off.
Temple Length 
The temple length is the distance from the hinge to the tip of the temple arm. If the temple length is too short, the lenses will be too close to your eyes and may hurt your ears. Conversely, glasses don't fit if the temple length is too long for your face because the lens will be too far from your eyes and cause eye strain.
Pupillary Distance 
Your pupillary distance measures the space between the pupils of your eyes in millimeters. This number helps opticians center your frames so your eyes are looking through the center of each lens. An incorrect measurement can lead to wrong size glasses and significant strain on your eyes.
Nose Pads 
Most plastic frames will sit on top of the bridge of your nose, while metal frames tend to rest on nose pads. If nose pads are not adjusted properly, your glasses won't fit well and could cause your eyeglasses to be uncomfortable.
Fitting Multifocal Lenses
Wearing the wrong size glasses can be especially problematic for people with multifocal lenses, like bifocals. Having glasses too tight or loose could impact their ability to see clearly at different distances. For these lenses, tight glasses symptoms might include blurry vision and eye strain due to the lens misalignment.
Art of Optiks: The Eye Clinic You Can Trust 
The fit of your glasses will determine the comfort and effectiveness of your eyeglasses. When your glasses don't fit, they can give you constant headaches and even make you feel dizzy. Wearing the wrong size glasses can make your vision blurry when you wear them since your eyes aren't looking through the center of the lens.
Getting the right fit for your vision choices is essential to seeing well and being comfortable in your glasses. Your optician should provide you with the best vision correction. Contact Art of Optiks today to schedule your appointment.