Having poor eyesight can make everyday life challenging, and while standard solutions like glasses or contacts work well, both come with downsides. Contacts can be difficult to put in or take out and may give the wearer unwanted dryness. Glasses can collect scratches due to regular wear and tear and easily be misplaced. Managing your eye health and care can feel like a full-time job, and it's not unusual to have wished for your eyesight to improve at the snap of a finger.
But what other options are out there? While LASIK is not magic, it is an excellent option for many people living with poor eyesight. After careful consideration, this standard eye surgery method can provide you with a lifetime of corrected vision, with no glasses or contacts required.
What Causes Poor Eyesight?
The two most common eye issues are nearsightedness or myopia and hyperopia or farsightedness. Other common eye issues include astigmatisms and presbyopia. LAISK, glasses, and contacts can be used to correct these vision impairments. Take a look at an overview of each below:
Nearsightedness: Objects at a distance seem blurry, caused by light focusing in front of the retina instead of directly on it.
Farsightedness: Objects close-up seem blurry, caused by light focusing behind the retina instead of directly on it.
Astigmatism: The front surface of the eye or the lens has mismatched curves.
Presbyopia: Aging of the eye that decreases the ability to focus on objects close-up.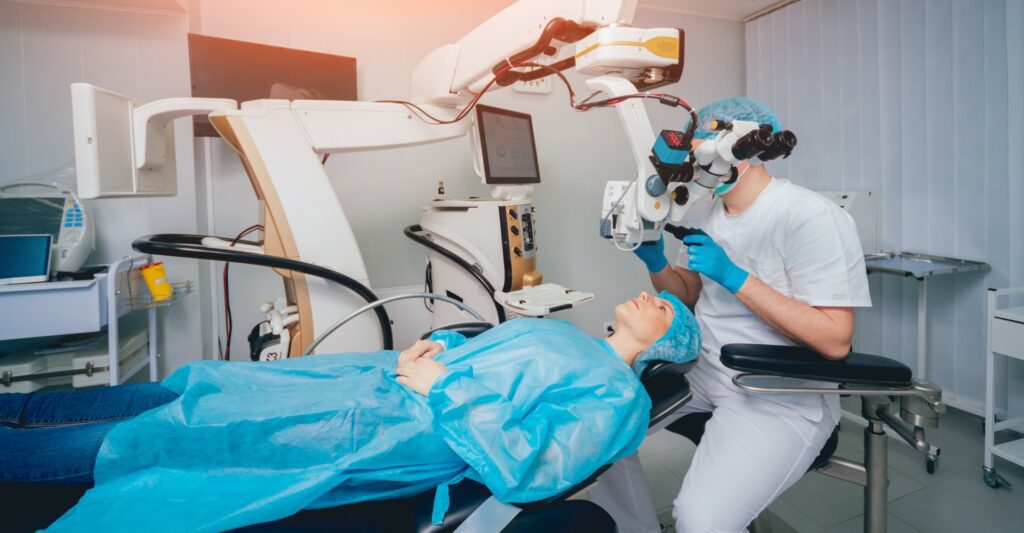 What Is LASIK Eye Surgery?
LASIK, or "laser-assisted in situ keratomileusis," is an eye surgery performed by an ophthalmologist who utilizes lasers to correct vision impairments. Understanding how your eyes function can seem complicated, so our experts have provided a simple breakdown of how it works.
The ability to visualize objects happens because of how light reflects those objects and processed light. Our eyes turn light into information, which enables our brain to create an image.
Any light reflected off objects enters our eyes through the cornea, passes through the pupils, into the lens, and focuses onto the retina. The photoreceptors in the retina send information to our brain, which creates the image that we see.
A Brief History
Like most modern medical techniques, LASIK was developed from a large foundation of other work and studies.
The foundations of LASIK come from a Spanish ophthalmologist, Jose Barraquer, in 1950's Colombia. Using incredibly thin cuts into the cornea, he investigated how much of the cornea needed to be altered versus how much to leave unaltered to change its shape and produce lasting effects on eyesight.
Twenty years later, a Russian scientist named Svyatoslav Fyodorov developed different techniques for eyesight correction that included implantable contact lenses.
In 1980, a researcher at IBM, Rangaswamy Srinivasan, discovered that an ultraviolet laser could cut living tissue without thermal damage.
No less than five years later, Steven Trokel and his associates at Columbia University put everything that came before them together and used a laser to perform the first laser eye surgery. After years of working out patents and FDA approval, LASIK became a staple of long-term eye correction.
It is estimated that across the globe, well over forty million LASIK procedures have been done. And, recent studies indicate that patient satisfaction for laser eye surgery is between ninety-two and ninety-eight percent.
Since 1991, LASIK procedures have only improved with technology. Eye doctors now have faster and more precise lasers, as well as bladeless flap incisions. With more advancements on the way, the future of corrective eye procedures is only looking brighter.
Can Everyone Benefit From LASIK Eye Surgery?
Some of the great things about LASIK eye surgery are the minimal downtime and long-lasting effects. Most procedures are done in less than a half-hour and are completely painless. While there will be some side effects, like dry eyes for a few weeks, most patients start noticing better vision within a few days.
However, while LASIK is a wonderful option for many people, it's unfortunately not for everyone. Several factors go into determining if this treatment is for you. A doctor is going to look at your:
Age
General and overall eye health
History of eye conditions, injuries, or other problems
Pregnant or nursing
The thickness of your cornea
If any of these factors pose a potential issue to surgery or recovery, your doctor may decide on another course of action besides LASIK. The most important thing is to speak openly and honestly with your ophthalmologist and find the best option for you and your eyes.
Begin Your Journey to Clearer Vision
If you're interested in LASIK eye surgery, the very first thing to do is set up a consultation with a qualified eye doctor. They will then discuss your health history, patient background, and perform an exam to determine the overall condition of your eyes. This is all to make sure that LASIK is the very best choice for you. If you are a candidate for laser eye surgery, you can then schedule your procedure and be on your way to a life of better eyesight.
Having poor eyesight comes with a lifetime of struggles, but it doesn't have to. There are dozens of options to help you improve your quality of life. And, with LASIK, you can begin your journey to clearer vision today.