Children with vision problems have access to various options for vision correction, such as eyeglasses and contact lenses. Whether your child has been diagnosed with nearsightedness, congenital cataracts, or another eye condition, scheduling a contact lens fitting may be beneficial, especially if they're not interested in wearing eyeglasses full time. Your child must learn everything they can about wearing contacts to be comfortable and confident each day, and the team at Art of Optiks looks forward to helping your child.
What Age Can Your Child Start Wearing Contacts?
Your child can start wearing contacts at any age, mainly because our eyes are physically developed at a young age to tolerate contact lenses. Did you know 14.5 percent of American children under the age of 17 wear contact lenses already? Infants with congenital cataracts or another eye condition have even been fitted with contact lenses. When deciding whether your child is ready for contacts, it's encouraged to consider how your child handles other responsibilities such as personal grooming habits, schoolwork, and household chores. If your child completes tasks without having to be reminded, they may be ready for contacts. Regardless, it's recommended to be patient and take time teaching your child about contacts when making the transition.
Sports and Self-Esteem
If your child is involved in sports, contacts may be a great option compared to eyeglasses. While eyeglasses have many benefits, your child won't have to worry about breaking their frames during contact sports, fogged lenses, and more. Contact lenses help eliminate these obstacles and give your child unobstructed peripheral vision, increasing overall performance. Your child may feel self-conscious wearing eyeglasses or not find the frames appealing. Eyeglasses are an excellent option for vision correction as there are numerous frame styles, shapes, and colors. However, it's all about what makes your child feel comfortable and confident. When discussing vision correction with your child, it's crucial to explain their options and choose a perfect solution for their unique needs and preferences.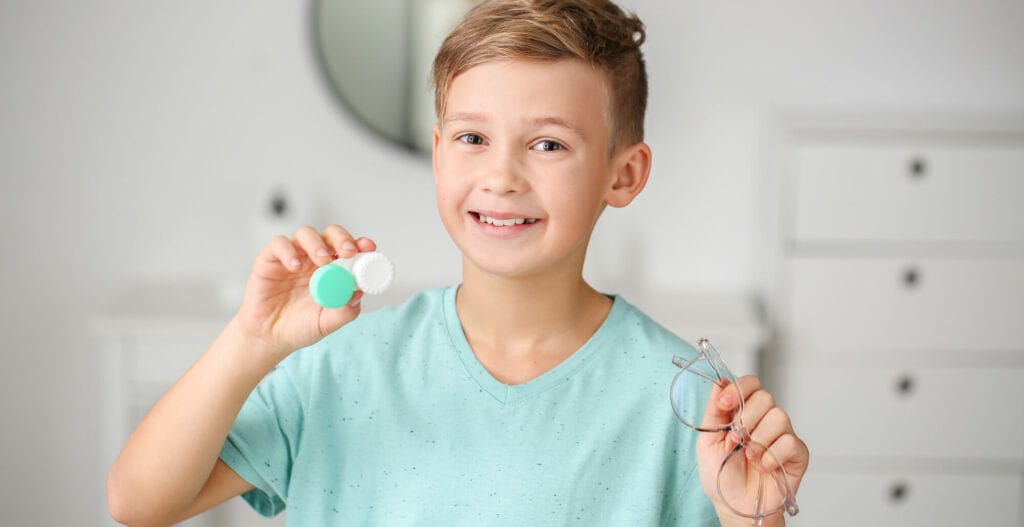 Easy Tips for Your Child
It's not uncommon for you to be hesitant or nervous about transitioning your child to contact lenses. However, this is an exciting time for your child, and it's essential to make them feel comfortable. If your child is transitioning to contact lenses, these are a few tips to make the process easy for both of you.
Encourage Proper Hygiene
You must stress the importance of proper hygiene techniques when your child is getting used to wearing contacts. Any time your child is handling their contact lenses, they must have clean hands, so the likelihood of contracting an infection is minimized. Before cleaning or inserting contact lenses, washing and drying hands thoroughly is vital. Contact lenses should also be cleaned regularly with the products recommended by your eye care professional. There are many different solutions for cleaning contact lenses, and your child's eye doctor will recommend what's best for them. Additionally, you must remind your child to only wear contacts for the prescribed time and never wear anyone else's lenses.
Avoid Blinking
Learning how to insert contact lenses can be challenging, and many children have difficulties with excessive blinking while trying to insert contacts into their eyes. Your child must be reminded to avoid blinking when inserting their contacts, as blinking can cause the contact lens to fold or drop before being placed on the cornea. If you have a contact lens fitting scheduled for your child, it's encouraged to get them familiar with touching their eyes beforehand. For example, you can have your child wash and dry their hands and get comfortable touching the white portion of their eye with their fingertips for a few seconds. This process will help them become familiar with the feeling and action of inserting contact lenses.
Don't Throw Out Eyeglasses
No one becomes an expert contact wearer overnight, and it might take your child some time to adjust or become comfortable with their new contacts. It's not uncommon for contacts to feel uncomfortable at first, so it may be helpful to keep your child's eyeglasses as a backup. Your child's eye doctor may recommend using eyeglasses for the primary vision correction method for the first month or two as your child adjusts to contacts. Over time, your child will become less dependent on eyeglasses and fully transition into wearing contact lenses each day.
Choose Daily-Disposables
Whether your child is interested in contacts or it's been recommended by their eye care professional, exploring daily-disposables is highly encouraged. Daily-disposables are convenient and safe due to their low maintenance requirements, which can be an excellent way for your child to get used to wearing contacts. By choosing daily-disposables, you eliminate the responsibility of learning proper storage and cleaning methods so your child can solely focus on wearing their new contact lenses.
Establish a Schedule
Many of us are more successful when a schedule or routine is involved. Not only does this keep us organized, but it lowers the chance of forgetting and encourages responsibility. Developing a strict routine for your child will help ease their transition to contact lenses. You know your child best, so creating a schedule based on their unique needs and daily tasks will be most effective. Whether it's teaching your child to fit and remove their contacts at the same times each day or selecting certain days of the week to wear contacts, every child's learning style is different, and catering to that will get both of you the best results.
Practice Safety
At your child's contact fitting, their eye doctor will teach your child everything they need to know about wearing contacts. From learning how to protect their eyes while wearing contacts to hygiene and storage responsibilities, your child must understand how to avoid harmful situations. After your child gets prescribed contacts, you need to remind them about the various safety measures, be prepared to answer any questions, and help them get used to their new responsibility.
Book Regular Eye Exams
While it may be tempting to order contacts for your child online, contacts have continued to evolve, and there are many affordable options for individuals of every age. Scheduling regular pediatric eye exams for your child is highly recommended as their eye doctor will test your child's vision, so the most suitable contact lenses are prescribed. Your child will also learn from an experienced professional how to clean, wear, and use their new contact lenses. Expert advice is crucial as this will help your child avoid infection and injury. Annual pediatric eye exams will allow your child's eye doctor to track any vision changes, so your child will always have the most up to date prescription.
Schedule a Pediatric Eye Exam Today
Whether your child is familiar with wearing eyeglasses or you've just learned of vision impairment, eyeglasses and contacts are both fantastic vision correction solutions. Scheduling regular pediatric eye exams for your child will ensure they see clearly for school, sports, and other daily activities they enjoy. Your child's eye health is vital, and the experienced doctors at Art of Optiks look forward to helping your child transition to contact lenses.